Mercedes-benz slk owners manual
advertisements

Free Mercedes-Benz SLK owner's manual in PDF file can be download here. Manuals here are listed according to model year in descending order. Newer model are listed first followed by older model. These manuals are online edition. Please contact your nearest Mercedes-Benz dealer to buy a printed copy of the Owner's Manual based on your car model year.
Generally, the Owner's Manual covers explanation for dashboard symbols and all the symbols in an SLK. It was written in few categories including the safety information, car operation, car seats, steering wheels, mirrors, all the lamps, lights, windshield wipers, climate control, driving and parking guide, on-board computer and CPU displays, wheels and tires, breakdown assistance, maintenance and care, technical data and all important information a SLK owner needs to know. Sports
The first generation Mercedes-Benz SLK R170, 1996-2004
Mercedes-Benz sports roadster, the model range and equipment, the car design, bodywork and vario-proof, safety, interior, engines and transmissions of the car, the chassis, technical data and many more details are all packed in the owner's manual.
The second generation Mercers-Benz SLK R171 2004-2011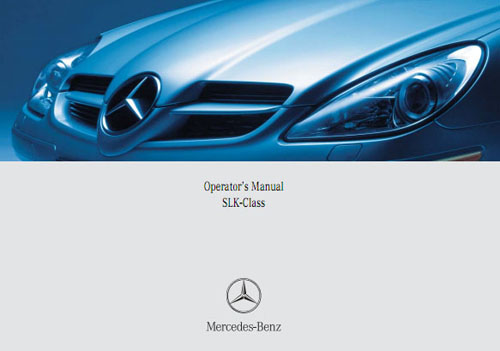 The new Mercedes Roadster replaces a successful first-generation model enjoyed by over 308,000 delighted owners since autumn 1996. The global number one in its market segment, it serves as a symbol for the new, dynamic brand image of Mercedes-Benz. The second generation of the SLK-Class has an even sportier edge in terms of both its design and engineering and, with its powerful engines, newly developed chassis, direct steering and precise six-speed manual transmission, delivers an even more agile driving experience. The body is 72 millimetres longer and 65 millimetres wider than the outgoing model, providing the SLK's passengers with more space and even greater comfort.
The third generation Mercedes-Benz SLK R172 2012-present
The third generation SLK is much wider than the first and second. It has grown up over the years in terms of better design and better power.
You may also like this:
advertisements

If you love this article, please PLUS it!